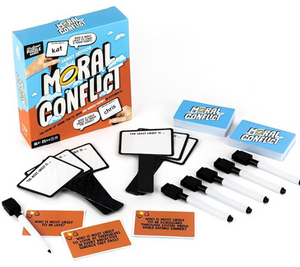 Moral Conflict by Professor Puzzle Games - "Most likely to" game that will have the family in hysterics.

Players take turns to read out the cards a nominate the player using their whiteboard paddle.

"Who's most likely to claim to have been abducted by aliens?" Or "Who's most likely to accidentally drop something in the toilet?"

Set contains: 100 Question cards, 6 Whiteboard paddles, 6 Dry-wipe pens, and instructions.

Part of the Professor Puzzle Games collection of unique family friendly party games.